Skip to Content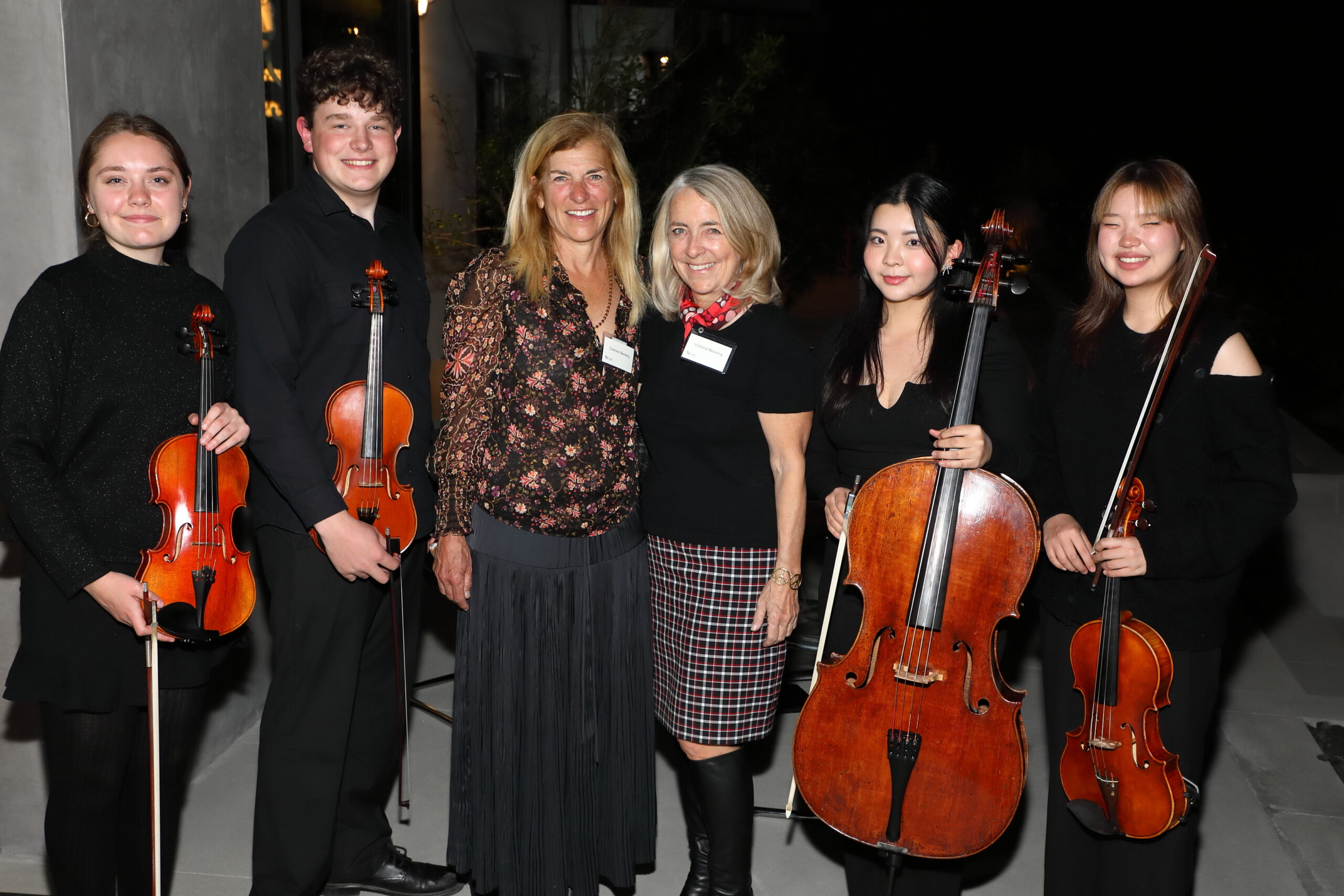 Corinne & Victoria Nevinny with Idyllwild String Quartet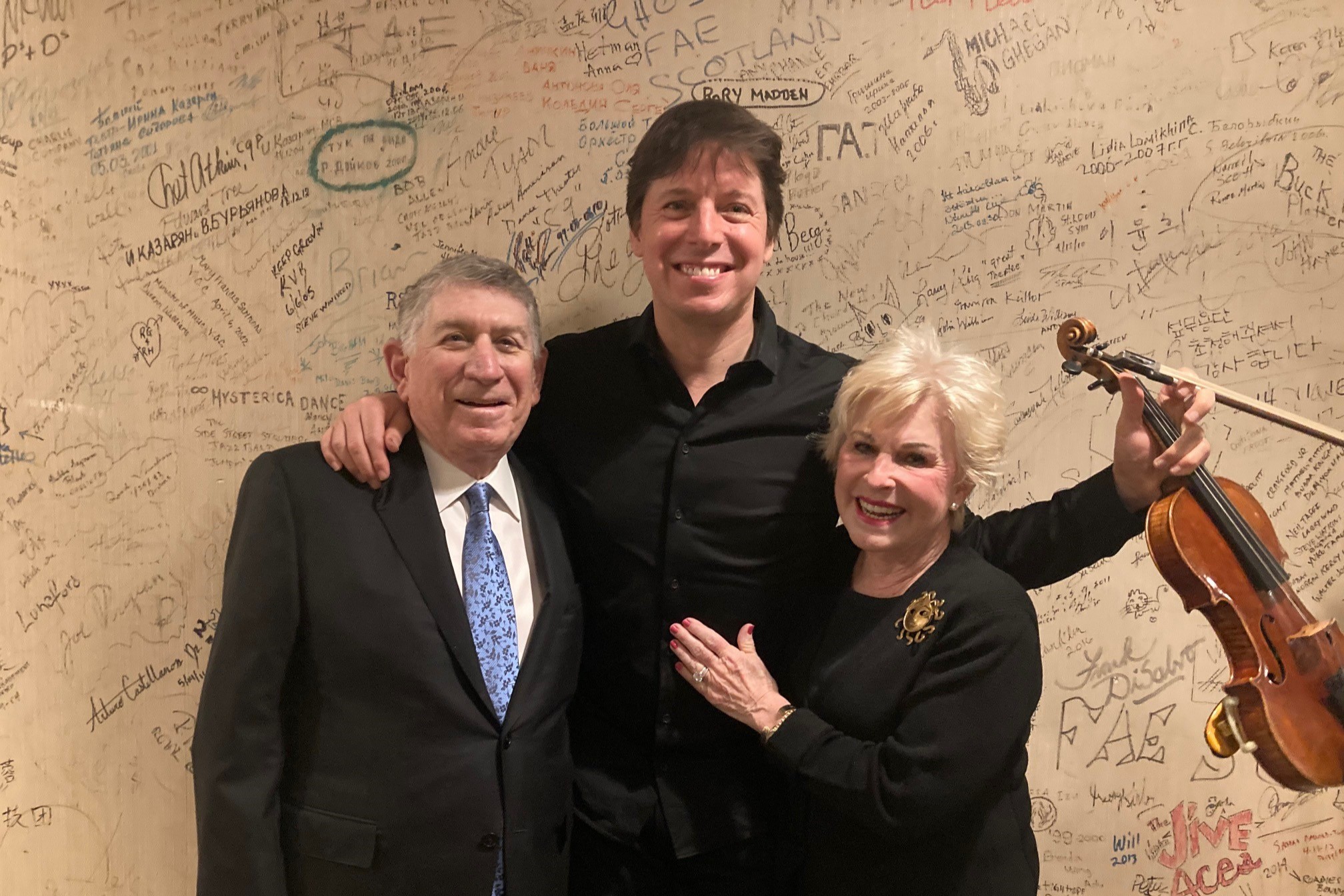 Gary & Phyllis Schahet with Joshua Bell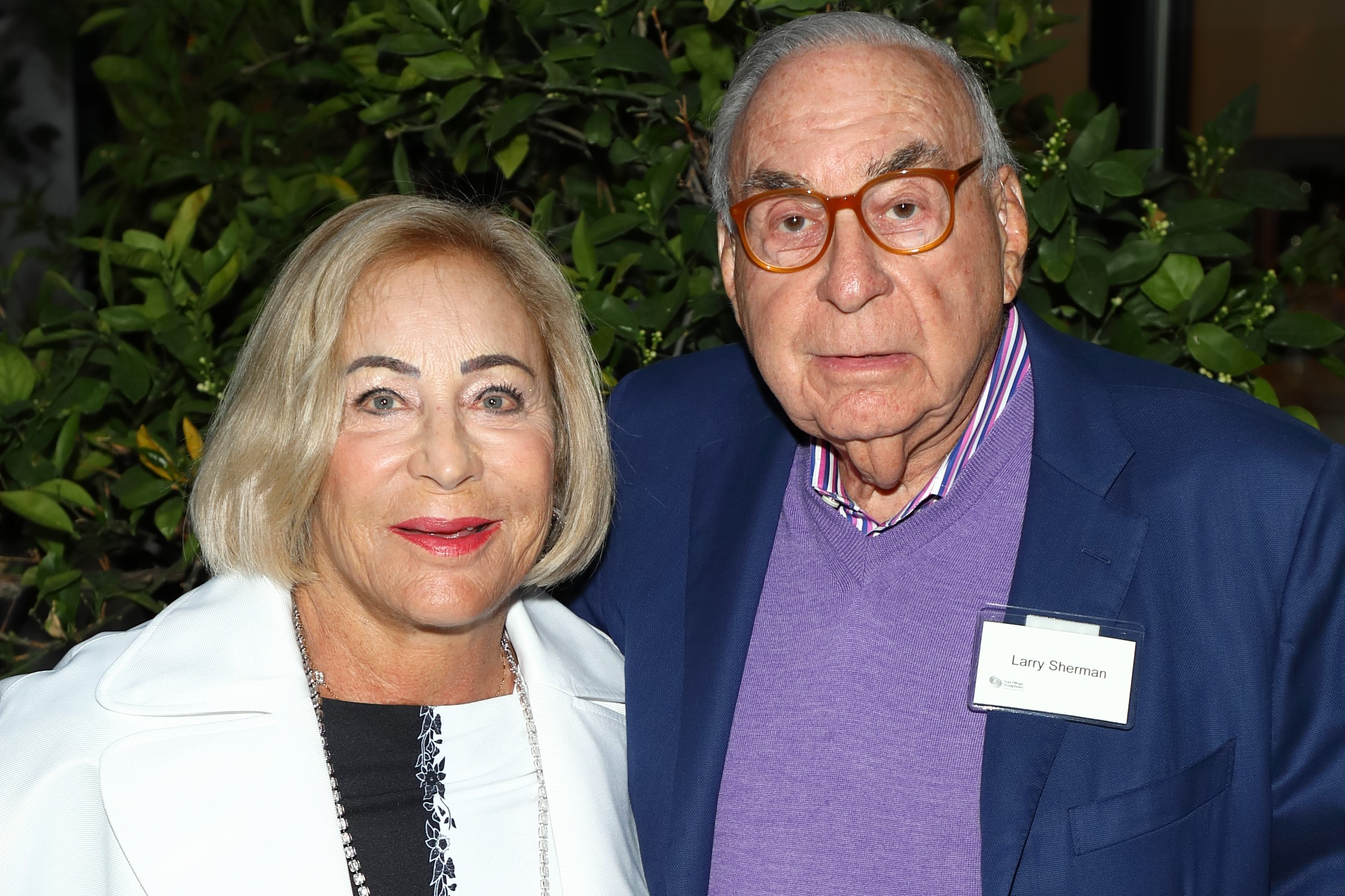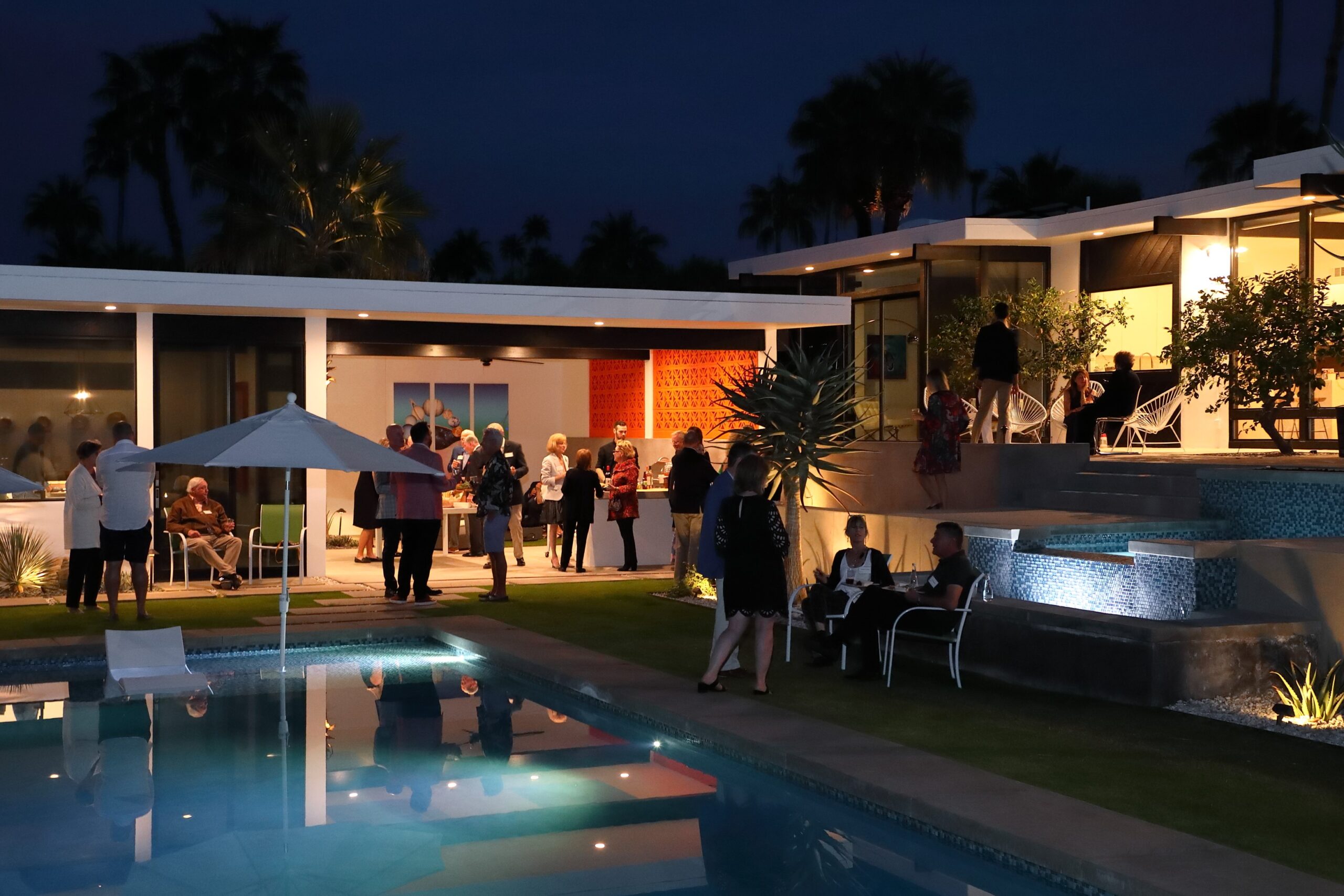 Reception with San Diego Symphony Fans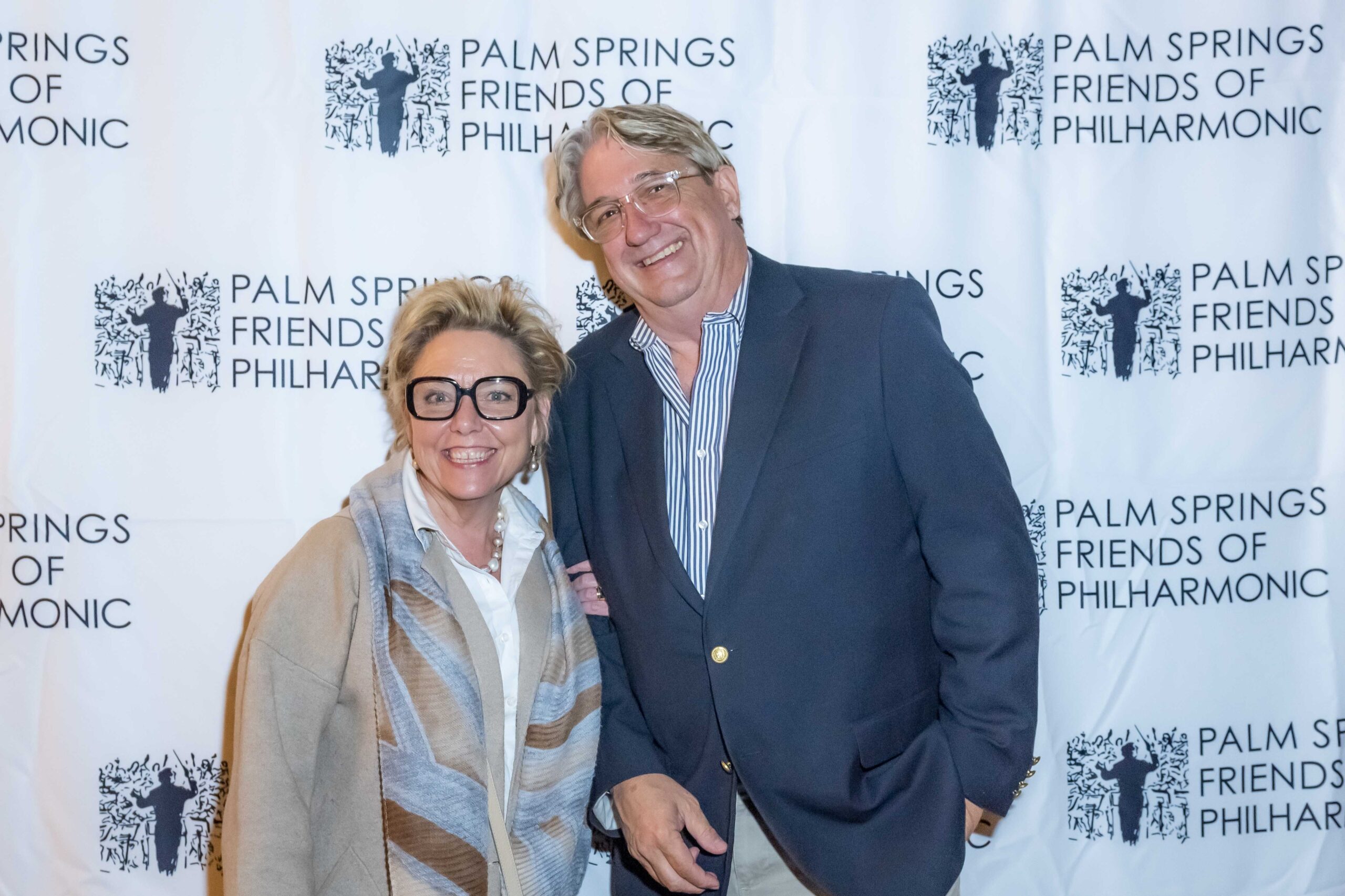 Donor List as of January 24, 2023
The Board of Directors of Palm Springs Friends of Philharmonic wishes to express its gratitude to the following annual donors:
Distinguished Maestro
$10,000 and above
Barbara Fremont
Gother Family Trust
Nancy & George Maas
Harold Matzner
The Nevinny Family
Charles & Yvonne Pigott
Paul M. Symons & *John Dare
Maestro
$5,000 to $9,999
Laura & Wayne Bellows
Ellie & Richard Bennett
Lynda & Charles Biggs
Sallie & Allan Bulley
Dean L. & Rosemarie Buntrock Foundation
John & Katherine Fox
Joyce Freund
Mrs. Karlene Garber
Rich & Judy Guggenhime
Dr. & Mrs. David Leshner
Dr. Myron & Joanne Mintz
Mr. & Mrs. Gilman Ordway
Judy & Jerry Potthoff
Peggy & Peter Preuss
Maggy & Jack Simon
Senator & Mrs. Francis A. Wong
Distinguished Benefactor
$3,000 to $4,999
Jerry Abeles
Yvonne & Derek Bell
Jeannette & Raymond Galante
Norman Gorin
Mary Sue & Bob Hawk
Patti & Brian Herman
Mr. & Mrs. Richard Johnston
Robert Kohl & Clark Pellett
Dr. Robert & Sharon Lesnik
Jeanne S. Levitt
Carol S. Lewis
Phillip Mathewson & Robert Griffith
Mattlin Foundation
Andre & Julie Molnar
Marnie M. Miller & Joseph Noren
Susan & Jim Palm
Larry & Cathy Pitts
Nora Rado
Phyllis & Gary Schahet
Gerald J. & Lucinda Schissler
Michael & Pat Schumaecker
Gloria & Michael Scoby
Mr. & Mrs. Joseph Stein
Douglas G. Stewart
Sheila & Ira Stone
Ken Turner & Mark Albertson
Jane Witter & Fred Delanoy
Benefactor
$1,500 to $2,999
Barbara & Alan Abrams
Don Alexander & Betty Davis Gates
Bill & Judy Allred
Richard Alther
Diane & Mike Beemer
Joni & Miles Benickes
Dr. Judith Bensinger
Linda Blank & Mark Jacobs
Nancy Breighner
The Robyn L. & Norman S. Brooks Family Foundation
Dr. & Mrs. Austin G. Buffum
Dr. David B. Carroll
Dr. Robert & Sandra Carroll
Pam & Tim Chanter
Johnathan & Doria Cobb
Susan E. Cooper
*Peggy Cravens
Lois Nehring Darr
Lois Davidson
Lytton De Silva
David A. Demers
Gennaro DeVito
Isabelle Diamond
Gary Wentworth & Bob Drake
The Allen & Marilyn Eager Charitable Fund
Kathleen & Jerry Eberhardt
Marcy & Leo Edelstein
Arturo Fernandez & Derek Gordon
John & Joann Firmage
Shirley Fitterman
Dr. Robert J. & Janice Flamer
Norman Forrester & William Griffin
Mr. & Mrs. Robert J. Fraiman
Natalie Freeman & Jack Austin
Barbara & Bernie Fromm
Mrs. Deane T. Garrison
Carl Geist
Diane & Harold Gershowitz
Cora Ginsberg
Buzz & Peg Gitelson
Muriel & Ron Goldberg
Bernice E. Greene
Carol & Carl Gregory
Joyce Grim
Rosalind & Stanley F. Hack, Esq.
Toni Hafey
Richard Halton & Jean-Marc Frailong
David & Carole Hatcher
Judy & Mel Hecktman
Ira Helf & John Knoebel
Elissa Hepner
Sharon & Rodney Hill
Roberta Holland
Boyd & Dody Hopkins
Frances Horwich
Kathy Intihar & Fran Campbell
Loreen Jacobson & Bertel Lewis
Michael Jaworski
Mrs. George E. Jones
Professor & Mrs. Ken Jowitt
Dean Kauffman
Nora Kaufman
Ruth & Malvin Kaufman
Dr. David Ko & Dr. Sara Azar
Marcia Koslov
Bud Krause
Linda Lechlitner
Norman J. Lewis & Myra L. Gordon
Harriet Litt
*Helen Louden
Rodney & Susan Lubeznik
John Marksbury & Chuck Steinman
Mrs. Ogniana Masser
Eunice & Jerry Meister
William & Jane Melzer
Tom & Marnie Mitze
Poul S. & Birgit E. Moller
Constance & John Nyhan
Ms. Caryl Olins
Cydney Osterman
Jacqueline & Barry Panter, M.D.
Georganne Papac
Beth & Larry Peerce
Vicki M. Rauscher
Gail Richards
Robert Richards
Rella & Monty Rifkin
Theodore & Carol Robinson
Marcella Ruble
Frank M. Ryan, M.D.
Elise Sacks
Sherry & Howard Schor
Jane & Larry Sherman
Mrs. John C. Shevlin
Evelyn & David Simon
Sheila Sloan
Donald Stein
Jill Steinberg
Robert & Carlyn Stonehill
Frederick Swann
Kory & Betty Teoman
Kyle Thorpe
Rosemarie Vacano
Helen Varon
Marsha & David Veit
Jean Baur Viereck
Robert Walker & Ken Beville
David Weigel & Mark Yacko
Alice & Jesse Weinger
JoAnn G. Wellner
Patron
$500 to $1,499
Steven R. Acree, Ph.D.
Dinesh & Raj Agrawal
Debbie Allen
William & Patricia Anton
Judith L. Appelbaum
Noyes & Elizabeth Avery
Janet Ball
Nora & Guy Barron
Cash & Betty Baxter
Jonathan R. Beard & Grace Nordhoff
Roger G. Bensinger & Robin Groth
Harriet K. Bernstein
Marlene & Bert Bilsky
Richard & MaryJeanne Burke
Bianca & Jim Cameron
Anne Camil
Elizabeth M. Campbell
Joe Cantrell
Bruce Cervone & Kathleen Delaney
Paul R. Christen
Joanne & Bill Chunowitz
J. Patrick Cooney & Karl Buchberg
Marion & Eric Cowle
Joel T. Cutler
Christopher Davidson in memory of James Watterson
Mrs. Dorothy Deming
Svanhild Dolin
Joan Don
Deborah Dooley & Paul Mittermeyer
Kevin Doran
Melinda Douglas
Martha Drake
Sheila Dulin
Joy Dunlevie & Ted Humphrey
James Eisenberg & Jane Woldenberg
Phyllis Mintz Eisenberg
Larry Fechter & Tom Stansbury
Carol & Arthur Freeman
Ariela Gallen
Linda Gazecki
Christine & Michael Gennet
Joe Giarrusso & Charlie Paglia
Ellen V. & Philip L. Glass
Sook Lee & Joseph Gole
Tom & Alix Goodman
Joyce Gorney
Arline Greenblatt
Helen & Alan Greene
Diane & Cynthia Gunn
Rod & Diane Hassett
Robert & Peggy Henley
MaryEllen Herman & Phil Markel
Nancy & Michael Herman
Burton & Libby Hoffman
Robert & Lorna Houck
John Hoyda
Al Jones
Andrew & Andrea Josephson
Dick Kahn & Sue Freeman
Sherwin Kaplan & Patricia Sullivan
Harriet R. Karmin
Retha Ellen Keenan
G.P. Paul Kowal
Drs. Howard Lee & Jean Lew
Lisa & Erik Lindauer
Ruth & Bill Mainzer
Madeleine Maniar
Signe Bergman & Jerry Marshak
Judith & Jonathan Marshall
Nicky & Lester Mayber
Pamela & Eugene McGuire
Allan McMurray & Judy Kaffka
James T. & Marianne D. Millican
Les Modie
Colonel & Mrs. Dave Mueh
Judy & Mike Musiker
Dr. David Norgard & Joseph Oppold III
Eva Cebulski Olivier
Rob & Jason Ollander-Krane
Dr. Marsha & William Pachter
Dean & Marilyn Park
Laurie & Mark Parkin
John & Gayle Perl
Norma Person
Rita & Robert Philip
Nancy Rapoport & Mal Rudner
Susan & Arthur Rebell
Susan & John Rothschild
Dr. Joseph & Dixie Schulman
Judith Schurr
Anneruth Serman
Richard & Nurit Sheehan
Mike & Lynn Shields
Nancy & Stan Sibell
J. Robert Sillonis & Michael D. Welter
Danforth M. Smith
Robert & Shelia Snukal
Nora & Jay S. Spak
Elaine & Claude Steinberger
Ann & Robert Stevens
Anne Swindells
Jane Townsend & *Alan Gross
Faye K. Triggs
Dr. & Mrs. Gerald Trostler
Vicki & Michael Turoff
Julie Tybout
Craig & Junior Vickers
David & Mary Ann Walsh
James & Lucy Wang
David & Marlyne Weiner
Stuart & Marysia Weiss
Lita & *Jerrold Widran
Jane Woolley
Supporter
$250-$499
Melvon Ankeny
Gerald & Sharon Appel
Rhona Bader
Michael & Lee Bard
Dr. & Mrs. Michael Baskin
Darryl K. Beach
Jim & Martha Blackburn
Eleanor & Bruce Blank
Steven & Carol Bloch
Barbara & Ronald Borden
Robert Bracken
Sigrun Braverman, Ph.D.
Mr. & Mrs. Alfred Bryman
Bonnie Carmell
Dr. & Mrs. Robert Corne
Jill & Robert DeMaster, Ph.D.
Sally Cherry Dempsey
David Dotlich & Doug Elwood
Janice Dunn
Jane Effress & Harvey Lambert
Robert Elmore & Paul Zak
Jeffrey & Suzanne Feder
Dr. Wilma Finmark
Walter Foery
Gail Baum & Larry Fox
Arva & Robert Frank
Barbara Gleissner
Carol Glickman
Philip & Carol Goldsmith
Phil & Judy Goldstein
Donald C. Graham
Bridget Gray
Willie & Joanne Greenspan
Dr. Robert & Maxine Greenstein
Ann Greer
George & Libby Henrich
Deon Hilger & Jerry Delaney
Murray & Barbara Hirsch
Mr. & Mrs. Roy E. Hofer
Suzan & Steven Hyman
Sherry Kaplan
Susan Karsen
Fran Kaufman
Sheila W. Keeshin
Sheldon & Barbara Kent
Maxine & Joe Kirshenbaum
Martin & Judy Krasnov
Dr. & Mrs. Walter F. Krengel Jr.
Richard & Dena Krown
David Lee
Mr. & Mrs. Julian Levy
Tom & Judy Lewis
Rick & Roseve Mainzer
Marliyn Malkin
Dr. Robert B. & Suzanne J. Martin
Zurich Esposito & Brian McCormick
Joseph & Shirley McEvoy
Jon & Marjorie McGihon
Mr. Thomas Miller
Jeanie Mills
Martha & Mark Moench
Fran Muir
Susan & Doug Myrland
Susan Nathan
Gary L. Nudell & Craig Heywood
Jack & Sharin Orr
Harold & Miriam Paley
Elizabeth Parese
W. Stuver Parry
David Peck & Dennis Duca
Lynn & Jim Philpot
Diane Rader
Michael Romberg & Meir Klapper
Rabbi Yaacov & Mrs. Nina Rone
Ellen & William Sachs
Robert G. Sanderson
James Slagter & Mariana Scarcella
Trudy Schwartz
Sanford Seplow & Susan Walpert
Christa Siegel
Dr. Paul & Sybil Silverstein
Linda & Jesse Singh
Kevin L. Smith & Beverly J. Zimmer
Barbara Spencer
Marie Staudhammer
Diane D. Stauffer
Eileen & Marv Stern
Dr. Tom & Sherry Stevens
Jay Tedder
Barbara W. Thormann
Leslie & Dr. Barry Usow
André van Niekerk & Steven Rogers
Judy Wallis
Robert Wenbourne
Mary & Jim Wilson
Marvin & Robbie Winick
David Winton & Brian Yaklich
Judith B. Zacher, M.D.
Eileen & Lawrence Zoll
Contributor
$100 – $249
Janet Abrams
Carole & Robert Adelstein
Irwin Alexander & Miles Senn
Helen Astleford
Dr. Danuta Batorska
Helen Risom Belluschi
John R. Benfield MD & Mary Ann Shaw
Zeev & Shoshanna Berger
Drs. Rainer & Carolyn Izu Bergmann
Bruce M. Hatrak & M. Andrew Berisford
Melinda & Harvey Bernstein
Nadine C. Bicher
Shelley Ann Birenbaum
Al Bloch & Fefe Passer
Donna & Judah Blumenthal
Judy Bobrow & Jon Desenberg
Andy Brancuccio & *Ken Sandacata
Janet Hartzler Braslow, M.D.
Ann Broadwell
Dr. Rich Cansdale
Mary Carlson
Richard & Renee Carman
Mary Carney
Penny Carpenter
Chan & Eunhee Chung
Joseph Cifarelli
Joan & Frank Cohee
Bram Conley
Corinne & Roger Coplan
Dr. Gerald & Marianne Corey
Frances & Gregg Corwin
Rev. Donald R. Craig
James V. Daber & Robin L. Goode
Larry Da Silva
Edwina Davis
Franck-Alsid de Chambeau, Ph.D.
John Martin Deely
Anneke Delen
Ingrid DeMarta & Judy Osborne
Keith & Vikki Dorsey
Karen Engman
Carol Faxon
Robert Feferman & Steven Bing
Jeanette & Saul Fein
Donald Feinberg
William Fisher, Ph.D.
Ann Fishman
Frances & John Fleckenstein
Sidney & Jacqueline Freedman
Jacob Frick & William Pape
Adrienne Garland
Patricia Gershick
Sally Gessford
Renee Glickman
Mrs. Gaye Goerz
Susan B. Goldberg
Thorey & Barry Goldstein
Carol Goldwasser
Dr. & Mrs. Edward E. Gordon
Dr. Robert & Vivian Greene
Lianne Gulka
Larry D. Harper
Richard & Ilene Harris
Doris B. Heckerman
John F. & Judith C. Hon
Maralyn Howard
Penny Hudnut & Stephen Schoenfeld
Nora Jackson
Lily Kanter
Jim Karpiak
Jack Keller
Karen Klein
Dr. & Mrs. George H. Koenig
Allison Kozak
Joey Leggett
Dr. Robert & Kay Levine
Edith Leyasmeyer
Bonny & Drew Link
Robert & Carol Lowitz
Judy Marks
Ken Maxwell
Bruce McCombs
Nick McCully
Mark McGowan & Didona Marcinkevicius
Michael H. Motherway
Bob & Fran Moyer
Andrew Nelson
Rick & Virginia Newton
Ella Ohana
Mr. & Mrs. Fred L. Olsen
Michael Pagliaro
Jack Palmtag
Raymond Price & Esmé Ryan
Bob & Susan Pristave
Melinda Raphael Goodman
Marsha Reed Nall
Gisela & Nelson Reid
Paul Reid & Tom Hartnett
Robert Rogers
Molly Ross
Dr. Joan Rubane
Dario Sacramone & John Pariseau
Dr. & Mrs. Andrew Sanderson
Dennis Schroeder
Louise E. Schulz
Judith Schwartz
Steven Shaer
Peggy Sheren
Ronald & Kim Marie Singer
James Stedman
Peter Steele & Daniel Wirth
Ron & Natalie Tambor
Jim & Linda Tjaden
Pauline Trimarco
Mark & Janet van Hartesvelt
Adrian Van Wingerden & Jose G. Perez
Paula & Daniel Voorhees
Arlene & Bill Wadsworth
Susan & John Walker
Steven L. Washington
Brian Webb
Sandra Wetrich & Max Davis
John White
John Whitfield
Charlene Williamson
Gwen Herron & *Everett Wilson
Ellen Yuracko
Maxine Ziebarth
*In Memoriam
Give Yourself the Gift of Music Year-Round
Sign Up for a Subscription Today!